Ocimum Sanctum - Tulsi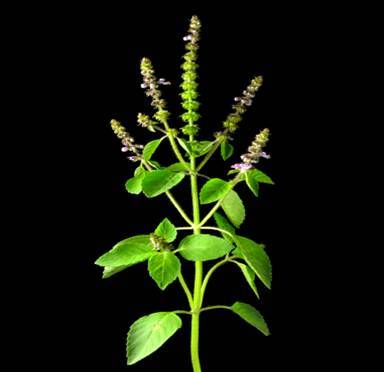 Ocimum Sanctum - Tulsi
Product Description
We provide Ocimum Sanctum which also known as Tulsi or Basil Extract. Ocimum Sanctum has several uses as medicinal herb and is believed to cure many ailments. We carefully process the Ocimum Sanctum ensuring that there are no impurities in it. The Ocimum Sanctum can be purchased at affordable price from us. We are a prominent name as Ocimum Sanctum Manufacturer and Supplier in Haridwar, Uttarakhand.
Details
Botanical name : Ocimum sanctum, syn. Ocimum tenuiflorum
Common names : Tulsi, tulasi, holy basil
Family : Lamiaceae (mint family)
Parts used : Leaf & flower in full flower with stems removed (fresh or dried), seeds
Constituents : Aldehydes, alkaloids, antistaphylocoagulase, ascorbic acid, beta-carotene, beta-sitosterol, alpha-ocimene, beta-ocimene, carvacrol, cineole, various essential oils, eugenol, glycosides, linalol, linoleic acid, linolenic acid, methyl-chavicol, mucilage, oleic acid, phenols, saponins, stearic acid, tannin
Actions : Adaptogenic, anti-oxidant, anti-inflammatory, anti-bacterial, anti-viral, hypoglycemic, immune supporting, metabolic enhancer
Uses : Stress, anxiety, mild depression, irritability, inflammation (cox-2 inhibitor), minor pain, anti-oxidant support, mental focus, sports performance enhancement, endurance, synergizing of other herbs in a formula, blood-sugar level maintenance, cortisol level maintenance, sport injury recovery, arthritis/bursitis.
Specifications
| | |
| --- | --- |
| Packaging Size | All |
| Color | Green |
| Packaging Type | Bag |
| Dried | No |
| Is It Dried | Non Dried |
| Country of Origin | Made in India |