Live Earthworm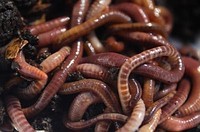 Live Earthworm
Product Description
Earthworms
are now highly regarded as a rich biological resource with a multitude of uses having commercial and environmental applications. This is evident as shown by the vigorous interest that people around the world have accorded on such technologies as vermicomposting, vermiculture, vermimeal production, vermiceutical production, and vermiremediation.
The activity of earthworms is most easily appreciated by comparison with the situation in regions where they are absent: the decomposition of organic matter there is slow, such that layers of litter accumulate on the soil surface and fail to be incorporated into the soil. More specifically, the activity of earthworms is important to the agriculturist in four respects, in that they:
improve soil structure
mix and till the soil
aid in humus formation
increase the availability of plant nutrients
We are bulk supplier and exporter of live earth warm.