Herbal Lemon Tea Indian Herbs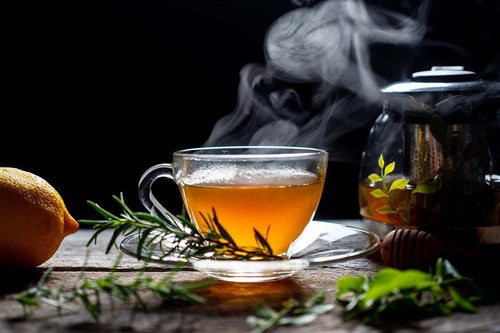 Herbal Lemon Tea Indian Herbs
Price And Quantity
Product Specifications
Gymnema sylvestre ext., Plerocarpus marsupium ext., Lagerstroemia soeciosa ext., Boerhaavia diffussa ext., Cinnamomum Zeylanicum ext., Withania somnifera ext., Green tea ext., black tea ext., Sucralase, Isomalt, Stevia green powder, Fructo Oligosacchharides. Other ingredients : Maltadextrin & silicon dioxide. Contains Natural & Nature Identical Flavours

Antioxidants
Product Description
1. Hydration - This is I feel the most important benefit - Our body is literally on a fast while we sleep and is in a mild state of dehydration when we wake, lemon water can re-hydrate your body within minutes of drinking it which is why it is so good first thing.
Lemon tea - warm water and lemon juice helps to replace fluids that are continually lost by our body, being dehydrated causes rapid aging and deterioration of the body, we feel exhausted, stressed, cant think straight, constipated - the list goes on.
We are 70-75% water, it is essential to keep those body fluids up. when we are properly hydrated we are full of energy and feel vibrant.
2. Digestive Aid - Lemon juice doesn't actually flush the body as you may read, but it helps the liver and kidneys to do their cleaning job, it helps produce the acids we need for good digestion. The acids in lemons are of a similar composition to our saliva and the hydrochloric acid of digestive juices - the body's natural digestive acids. Lemons are also high in minerals and vitamins which help shift toxins in the digestive tract. Lemons turn alkaline when digested by the body and so help to relieve symptoms of indigestion, such as heartburn, acid reflux and bloating. The citric acid in lemons help to produce enzymes, which aids healthy digestion and stimulates the liver.
The American Cancer Society says warm lemon water helps cancer sufferers to stimulate bowel movements.
3. Lemon is a Natural Diuretic - A natural diuretic, therefore helping the body to release toxins - helps detoxification and keeps the bloating away.
4. Clears Skin - With all that flushing and hydrating we are obviously going to improve the look of our skin and we all know vitamin C is fab for our skin right? Vitamin C, or ascorbic acid, is key to the production of collagen, a protein which aids in the growth of new cells and blood vessels to give skin its firmness and strength. Vitamin C also helps create scar tissue and ligaments, it helps our skin repair itself . The vitamin C contained in the lemon rejuvenates the skin from within our body and gives us a vibrant glow!
5. Immune Builder - One of the easiest, cheapest and most effective ways to boost the immune system - high in antioxidants and vitamin C, drinking lemon juice or lemon tea regularly helps to fight of disease and illness. Lemons are also high in potassium, which stimulates brain and nerve function and control blood pressure.
Lemons are anti -inflammatory - inflammation can cause many health problems. People with Asthma and other respiratory symptoms would all benefit hugely from drinking lemon tea/water.
6. Balances pH Levels - Lemons are one of the most alkalizing foods for the body bringing it back to a balanced state, when we are over acidic we are vulnerable to disease - no disease can survive in an alkaline body. Drinking lemon water regularly can help to remove high acidity in the body, including uric acid in the joints - one of the primary causes of pain and inflammation.
7. Freshens Breath - Lemons can help clear bacteria in the mouth assisting with the health of our teeth as well as keeping our breath nice and fresh. The acid in the lemons can erode the enamel on the teeth though, so be sure to rinse with fresh after after your lemon drink.
8. Promotes Healing - If our immune system is strong we obviously heal more quickly and the vitamin C found in abundance in lemons, helps to heal wounds quickly and basically takes care of all the tissue in the body including bones and cartilages. Vitamin C also helps us recovery from stress and anxiety.
9. Lifts our Mood - Just the smell of a lemon can clear our mind and so lift our mood, back in my aromatherapy days, we were encouraged to use lemon essential oil and have it near us while studying to help us stay clear and focused as well as happy!
10. Aids in Weight Loss - Last but definitely not least, lemons help us hugely with keeping our blood more alkaline and people with healthy alkaline levels tend to lose weight more easily and faster than those who are high acid, the body is very sluggish and slow when in acid state and so it would be very difficult to lose weight, for us to lose weight we need our system to work well and eliminate properly, lemon is helpful in this way too. So get that lemon tea going and lose those extra pounds!
Of course just lemon tea alone will not bring all these benefits, but an overall healthy diet, lots of water and lemon tea in the mornings will bring huge health benefits.
Specification
| | |
| --- | --- |
| Flavor | Lemon |
| Packaging Size | 200gm |
| Form | granules |
| Pack Type | Box |
| Product Type | Lemon tea |
| Packaging Type | Box |
| Brand | Sunrise |
| Shelf Life | 24 Months |
| Color | light yellow |
| Packaging | Box |
| Flavour | Lemon |
| Ingredients | lemon |
| Storage Instructions | store in dry and cool |
| Is It Organic | herbal |
| Weight | 200 gm & 400gm |
| Country of Origin | Made in India |
| Feature | herbal |
Trade Information
275

Western Union, Letter of Credit (L/C), Cash Advance (CA)
Free samples available with shipping and taxes paid by the buyer

Product Type: Flavored Tea Type: Herbal Tea Variety: Masala Tea Style: Loose Tea Processing Type: Hand Made, Raw, Re-Processing Specialty: Health Tea, Lemon Tea Indian Spices Packaging: Box, Bulk Grade: A Grade Shelf Life: 2 year Weight (kg): 100 Place of Origin: Rajasthan, India Brand Name: Organic Sunrise Natural Model Number: SUN62 Product name: Herbal Lemon Tea Indian Spices MOQ: 100 kg Tea type: Indian Spices Raw material: Powder Form Packing: Plastic Bag
Africa, Middle East, Western Europe, Eastern Europe, South America, North America, Central America, Australia, Asia

All India
FDA, GAP, GMP, HACCP, IFS, ISO, NOP